Engage Your Customers With Personalized Media
Local businesses and organizations are the backbones of communities, and those are who the crew at Matty D Media strive to serve. Our goal is to put the personal back into the media that we provide for our customers so that they can better give back to their community. Our affordable video production services are customized and catered to the Lawrence, Kansas surrounding areas to maximize your local impact.
Matty D. Media provides video production for small business and local organizations.
When DIY is Not Enough
You can find DIY videos for just about everything online from fixing your car to knitting a blanket. You can even find information that details how to create a video script, take clear video and audio, and put it all together.
What you won't find in those DIY videos, however, is that a lot more goes into a compelling advertisement, profile, testimonial, or other informational videos than just the construction. Good videos tell a story, that is personalized, true, and moving. No single element of videography is going to do that, and Matty D Media has the experience and skills to provide content that doesn't just present the facts but also moves the viewer. Choose professional services to get your job done right and choose Matty D Media to get it done better.
What is Video Marketing?
Video marketing is a forward-facing marketing strategy that utilizes video content and compelling script writing to tell a story while selling a product. The way that these scripts are performed can be verbal or nonverbal, and it is one of the jobs of a good videographer to choose the right script for the feel of your video.
For instance, you've probably noticed sales-driven commercials on the television being cut in short, snappy ways. Punchlines are best when targeting fast-paced consumers over a widespread area. However, Matty D Media is focused on providing content for the local Lawrence area, and that calls for a completely different video marketing campaign. We analyze your consumer base for you and cater our media to fit with their interests and values.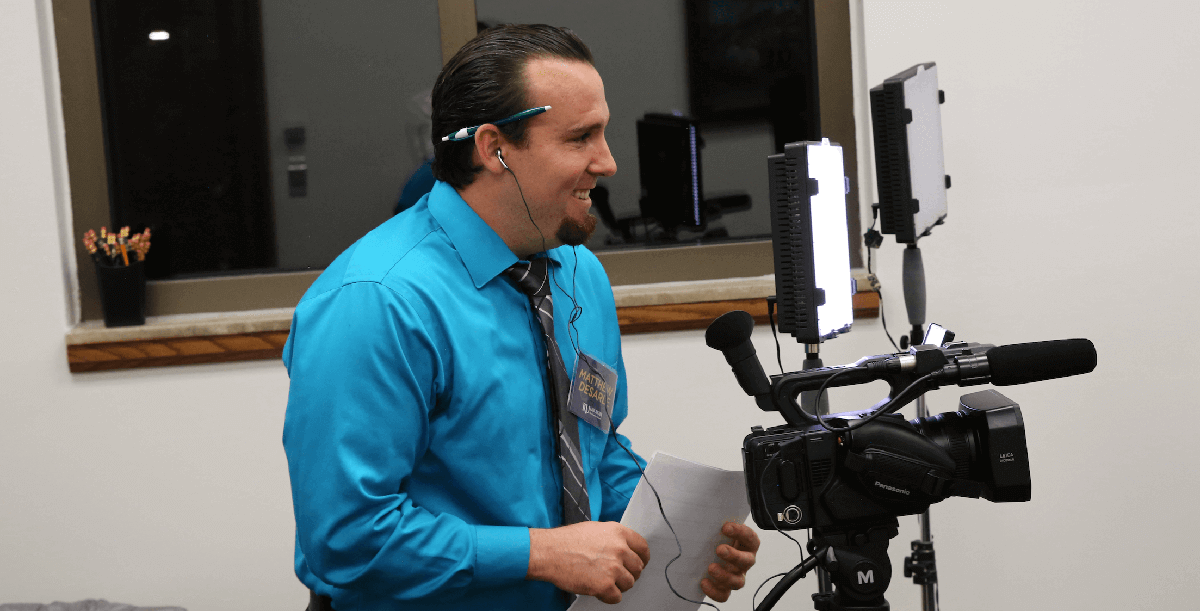 What are the Benefits of Video Marketing?
Video marketing is one of the most prevalent marketing platforms being utilized today. According to the Digital Marketing Institute, 81% of companies utilize video marketing as of the beginning of 2018 and 76% of marketers have noticed a positive impact on their advertisement campaigns because of video marketing. These numbers are merely statistics, but there are far more tangible ways in which video marketing strategies benefit their customers.
Video marketing is the face of your company. Pictures are worth a thousand words, but they only tell a situational story. Videos capture stories in depth, helping your customers find trust in your company, their products, and their services.
Like print and word, static marketing campaigns often miss their target audience. Video marketing campaigns utilize elements of print, photography, and videography to maximize the audience's experience and bring them into a greater understanding of what makes your business or product the top of the line.
Videos attract customers. The average American watches a base of four hours of television daily, which makes even local channels a prime target for marketers. Advertisements stick out among their chosen programs and memorable advertisements can make a lasting impression during these breaks.
There are endless video platforms for your finished product, so the target audience can be reached on everything from local channels to YouTube for maximum ROI.
Video Marketing FAQs
Is video marketing more expensive than other forms of marketing?
As is true of all forms of marketing, there is an initial up-front cost. However, most customers experience a much greater return on investment (ROI) from video marketing campaigns than from other advertisement campaigns. This is because video reaches the widest audience, which allows your company to effectively sell its product or services. For more information on our services and prices, check out our pricing page.
What do you consider when constructing my media?
First and foremost, Matty D Media services the local community. For this reason, we consider the values and standards that the Lawrence area holds dear and apply that to all our videos. Other factors that we consider when we create your marketing videos are how you intend to reach your audience (ex. YouTube, Facebook ads, local television channels), your goals for the video, and who the demographic of your video is.
Why should we choose Matty D Media over your competition?
Local businesses are becoming favored across the country, and there's a reason why. They provide the most personalized services, and that is what our company offers. Flashy videographers and freelancers spread across the United States might have the skills, but we have the skills and the local know-how to target your audience correctly.