Testimonials about Matty D. Media
Companies who hire Matty D. Media for video marketing services come in all shapes and sizes.  We serve as a corporate video production service for companies with large marketing budgets.  We also produce for mom-and-pop shops looking for a videographer to produce on a shoe-string budget.
How video content adds value for small business
Small business succeed by understanding what their customers want.  We create videos in that spirit.  If customers want to know the process, we document the process.  If clients need to know the pricing structure, we can create videos to explain that.  Oftentimes, customers want to see and hear before they buy.  When customers watch the personalities running a business, they get warmed up to the expertise they'll experience.  Therefore, staff bios are a popular format we produce.  Both of the testimonial videos below reflect on how staff profile videos benefited the business.  Massage therapist and owner of "Body Specific," Lisa Lahm, talks about how Matty D. Media softened the on-camera experience for her staff.  You can watch more of the Body Specific videos by clicking here.
Franchise company owner Barry Kingery shared a similar feeling.  In his review of Matty D. Media, he talked about the versatility provided with the videos.
You can watch the Express Employment Professionals of Lawrence video series by clicking here.  
More reviews of Matty D. Media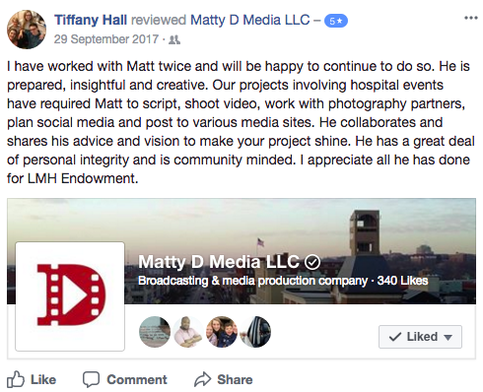 Click here to read more reviews on Facebook.
Reviews on Thumbtack



Recommendations on LinkedIn


Click here to connect with Matty D. Media CEO Matt DeSarle on LinkedIn.