Engage Your Customers With Personalized Media
Local businesses and organizations are the backbones of communities, and those are who the crew at Matty D Media strive to serve. Our goal is to put the personal back into the media that we provide for our customers so that they can better give back to their community. Our affordable video production services are customized and catered to the Lawrence, Kansas surrounding areas to maximize your local impact.
Matty D. Media provides video production for small business and local organizations.

Zach Saltz
17:58 06 Jul 21

Tony Schwager
13:00 16 Jun 21
Definitely a professional. Just a simple conversation with Matty was an inspiration, and definitely had a true passion for Video Production. Projected a strong resonation in my mind of his decision to his children, and to the betterment of children... That strikes a chord with me.

Anthony Carter
21:18 29 May 21
The team at Matty D Media knocked it out of the park for us. They produced great quality videos for us, over a holiday, during a pandemic, and were nothing short of polite, professional, and responsive along the way. They delivered on time and on budget! We look forward to doing more with Matt and the team at Matty D Media!

We've worked with Matt on a few different projects in the last few months. He and his team were quickly able to see our vision of the end product and delivered quality and affordable productions for us to use to educate and inform citizens. Even during this time of a public health crisis, he and his team worked virtually with us to complete the projects. Matt and his team are professional and accommodating and took the time to understand our needs and sensitive to our business. The team worked fast to have final products in a matter of weeks. We look forward to working with Matty D Media on future projects!

Hannah Stambaugh
23:07 09 Feb 21
I was referred to Matty D Media LLC through Andrew McClellan at straightlinewebsolutions.com. I needed an explainer video for my new site and he recommended Matt. I couldn't be happier with the entire experience. He and his choreographer Eric were exceptional. He listened to the message I told him I was trying to deliver to the customer. Most businesses would just do what you tell them. Matt was different. He was able to look at my company with an unbiased eye and give me feedback on a better way of approaching the task than I could. This, coupled with his easy and relaxed demeanor, allowed me to just be myself. There is a sweet and earnest quality to the production. I feel very happy with the entire outcome. I will definitely use him again.

Jon Jahraus
17:15 16 Sep 20
Matt is always very pleasant to talk to and work with. He has always showed his great passion for video production through his creative angles of helping small business owners and his professionalism of illustrating his indepth understanding of his clients:)

Chen Liang Real Estate
00:41 04 Sep 20
I called Matty D because I had seen their work and was very impressed with the quality. I was in a bind and needed a commercial to be done quickly and professionally. Matt and his crew expedited their filming and editing and helped me to reach what seemed like an impossible goal. I will use them again anytime that I need media services. They are exceptional in quality and service.Terry Jacobsen (owner)

Printing Solutions Accounting
21:29 19 Aug 20
Our company has over 100 locations nationwide with thousands of employees. Within the past year Matty D Media has produced several video production projects for us. In every instance the work was exceptional, finished ahead of schedule, and was within the budget provided. It's for these reasons and many more why our company plans to continue working the Matty D Media on future video production projects

Peter Browning
18:32 05 Aug 20
Matty has provided wonderful results for my video request. Working with him during this time of uncertanity and navigating covid in our lives has been in flow and ease. He did a video to launch my Master Class outside and I felt safe and did not skip a beat on the video timeline. I also sent Matty a video to perform his magic on to launch for the ICF Heartland Charter Chapter for Missouri and Kansas ICF Coaches and this was also seamless and with a level of high excellence. I would highly recommend Matty D Media for any and all of your video needs. Liz Dobbins

Liz Dobbins
18:12 29 Jul 20
Matt was not only professional, but patiently coached me through the production. He was clear and concise. Efficient. He was his element and always operating on that fine line between speedy but not rushed. I also feel I got a very good product for the money. What's more, he initiated calls and emails throughout the project and continues to do so to check up on me. That's impressive customer service. I am looking forward to our next project.

Paul Morgenroth
16:41 25 Jul 20
Working with Matt was so effortless and our business saw immediate results. Our video presence online has set us apart from our competitors and we hear from our new clients that they feel like they already know us after watching our videos. We will continue to produce more and more videos with Matty D Media, they truly are the experts.

Neal Julian
01:42 24 Mar 20
Matt's production location scouting and attention to detail provided in their bid was very helpful! His legwork in the pre-production process was very thorough and much appreciated!

Matty D. Media is an absolute joy to work with. Matt DeSarle is the best of the best! Between his knowledge, expertise, and dedication to capturing your vision, Matt produces amazing work that you will be proud to share. He is always easy to reach and very organized in his work, not to mention his attention to detail! Did I say generous?! Matt even volunteers his talents to help nonprofits like Kansas Advocates for Better Care share their story and gain support from the community. Don't sleep on Matty D. Media, be sure to book Matt and his team for your next video production!

Kansas Advocates for Better Care KABC
18:39 30 Oct 19
Matt has been influential in creating a media presence for our company. He learned our industry and took the time to understand our company culture, and that has made the difference. We have worked with Matt for 3 years and continue to find value in what he adds to our brand experience.

Wes Sylvester
16:16 15 Mar 19
Matt is a professional and easy to talk with. He has a good eye for how to stitch together compelling videos and he can deliver what you want.

Stephen Lane
18:06 14 Mar 19
Matty D Media LLC has been great to work with, and does top quality work! He really takes the time to find out what our goals are and what we're trying to accomplish with each project, and makes sure we get what we need. Thanks Matt!

Express Lawrence
15:16 29 Nov 18
Matty D. Media gave me the professional online appearance I needed to expand my clientele and reach more ideal clients. I'm a repeat customer because they get response and take my business to a whole other level!

Christine Julian
16:06 09 Oct 18
I had the great pleasure of collaborating with Matt on a series of videos. He's professional, innovative and easy to work with. I look forward to working with him again in the future!

Stacie Schroeder
03:08 20 Apr 18
I have had the privilege of working with Matt on several occasions. It is always a pleasant experience. He does a great job of honoring his clients and doing the best work he possibly can.

Cameron Philgreen
17:15 09 Mar 18
Matt is very professional, easy to work with, and has a great vision for the final outcome of a project!

Matt has produced two videos for Rainbow International Restoration of NE Kansas and is great to work with. His background provides him with the tools to interview, video, edit and produce high quality videos. He made one of our customers cry when he previewed a before and after video of a devastating home fire loss. Matt was able to capture the raw emotion they felt when explaining their loss to Matt.Thank you very much and we certainly look forward to working with you again!

Steve Berger
14:35 11 Jul 16
Matty D Media is the only video production company I will use. He is prompt, professional and his ideas make something simple into something amazing.

Tracie Fobes
12:09 11 Jul 16
We are quite pleased with the videos that Matt has shot and edited for us. As a carpet & rug cleaning business, visual communication of what we do is very important. Matty D Media has helped us do this effectively and creatively with end results that are outstanding.

Michael Brummett
00:28 08 Jul 16
It was great working with Matty on our video. Very creative and patient during the filming process. Thank you so much. We will use his company on all our future videos.

Bryan Harris
21:59 07 Jul 16
Prompt, Professional, Creative and Caring. Was extremely pleased with the quality of the product and level of professionalism from Matt. I highly recommend him to other local businesses.

Mike Urish
17:25 07 Jul 16
LOVED the whole process with this company! I highly recommend them to anyone who wants to raise awareness of their business to the masses in social media.

George Baker
17:24 07 Jul 16
We've worked with Matty D. Media for a number of projects for our small business and are continually impressed with his video production capabilities, responsiveness, professionalism and turnaround time.Matt stays on top of the latest technology and media trends, regularly bringing new ideas and concepts to us in order to assist in growing our business and brand awareness. His video production is clean, consistent and cohesive. We never have any doubts that the finished product will be a hit.We enjoy collaborating with Matt and look forward to working on future projects together.

When DIY is Not Enough
You can find DIY videos for just about everything online from fixing your car to knitting a blanket. You can even find information that details how to create a video script, take clear video and audio, and put it all together.
What you won't find in those DIY videos, however, is that a lot more goes into a compelling advertisement, profile, testimonial, or other informational videos than just the construction. Good videos tell a story, that is personalized, true, and moving. No single element of videography is going to do that, and Matty D Media has the experience and skills to provide content that doesn't just present the facts but also moves the viewer. Choose professional services to get your job done right and choose Matty D Media to get it done better.
What is Video Marketing?
Video marketing is a forward-facing marketing strategy that utilizes video content and compelling script writing to tell a story while selling a product. The way that these scripts are performed can be verbal or nonverbal, and it is one of the jobs of a good videographer to choose the right script for the feel of your video.
For instance, you've probably noticed sales-driven commercials on the television being cut in short, snappy ways. Punchlines are best when targeting fast-paced consumers over a widespread area. However, Matty D Media is focused on providing content for the local Lawrence area, and that calls for a completely different video marketing campaign. We analyze your consumer base for you and cater our media to fit with their interests and values.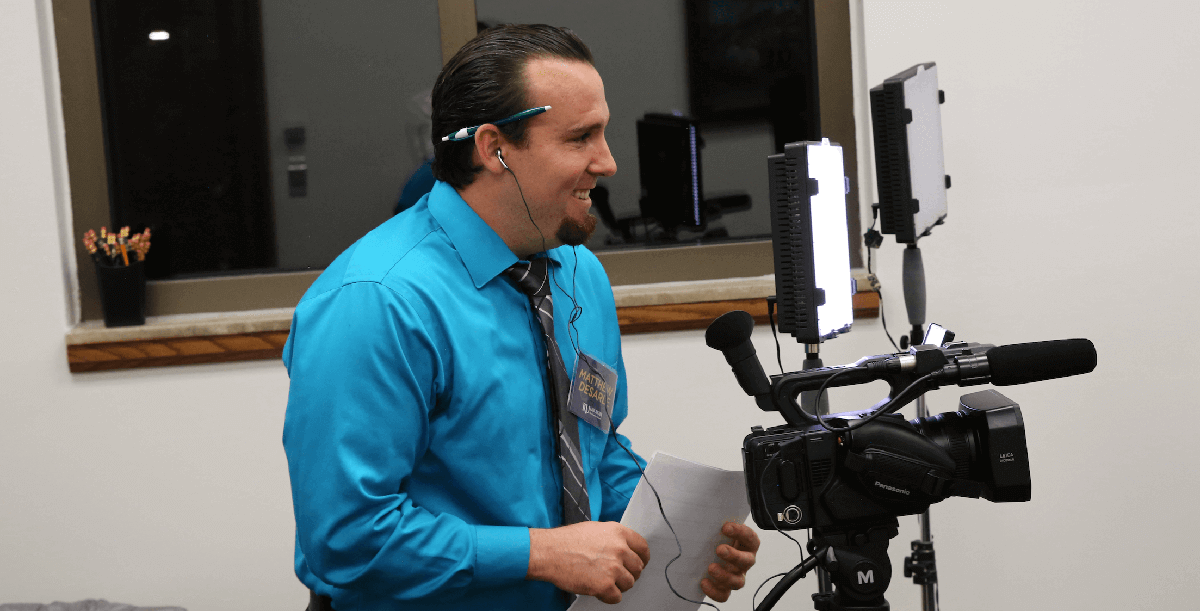 What are the Benefits of Video Marketing?
Video marketing is one of the most prevalent marketing platforms being utilized today. According to the Digital Marketing Institute, 81% of companies utilize video marketing as of the beginning of 2018 and 76% of marketers have noticed a positive impact on their advertisement campaigns because of video marketing. These numbers are merely statistics, but there are far more tangible ways in which video marketing strategies benefit their customers.
Video marketing is the face of your company. Pictures are worth a thousand words, but they only tell a situational story. Videos capture stories in depth, helping your customers find trust in your company, their products, and their services.
Like print and word, static marketing campaigns often miss their target audience. Video marketing campaigns utilize elements of print, photography, and videography to maximize the audience's experience and bring them into a greater understanding of what makes your business or product the top of the line.
Videos attract customers. The average American watches a base of four hours of television daily, which makes even local channels a prime target for marketers. Advertisements stick out among their chosen programs and memorable advertisements can make a lasting impression during these breaks.
There are endless video platforms for your finished product, so the target audience can be reached on everything from local channels to YouTube for maximum ROI.
Video Marketing FAQs
Is video marketing more expensive than other forms of marketing?
As is true of all forms of marketing, there is an initial up-front cost. However, most customers experience a much greater return on investment (ROI) from video marketing campaigns than from other advertisement campaigns. This is because video reaches the widest audience, which allows your company to effectively sell its product or services. For more information on our services and prices, check out our pricing page.
What do you consider when constructing my media?
First and foremost, Matty D Media services the local community. For this reason, we consider the values and standards that the Lawrence area holds dear and apply that to all our videos. Other factors that we consider when we create your marketing videos are how you intend to reach your audience (ex. YouTube, Facebook ads, local television channels), your goals for the video, and who the demographic of your video is.
Why should we choose Matty D Media over your competition?
Local businesses are becoming favored across the country, and there's a reason why. They provide the most personalized services, and that is what our company offers. Flashy videographers and freelancers spread across the United States might have the skills, but we have the skills and the local know-how to target your audience correctly.
For more information on how we can help you,