Matty D. Media LLC provides a VHS transfer service that allows customers to put their old videos online.  For only $8 dollars per 30 minutes of footage, customers can have half hour videos uploaded to Dropbox.  Matty D. Media is a video production service based in Lawrence, Kansas.  Footage on VHS tapes degrade over time.  Our transfer service safe-keeps those memories.
Costs to Transfer VHS to digital
With its VHS transfer service, Matty D. Media transfers a traditional 2 hour VHS tape for only $32 dollars.
This service includes an upload onto Dropbox.  The video files will be in .MOV format.
What type of video tapes can be transferred?
We can transfer a variety of analog video tapes with a digital converter.  Here are the formats we can digitize:
VHS tapes
VHS-C style video tapes
Some MiniDV models
Audio Cassette tapes
In addition to VHS, VHS-C, audio cassettes, and MiniDV tapes, we may be able to transfer alternate formats if the client provides the tape player.  For example, we can transfer some Digital 8 (or Hi8) models if the customer has a machine that plays the tapes.
What happens to footage after digital transfer?
After we transfer your VHS footage to digital, we email you links to download the video files.
For only $15 more, we will put your videos onto a new thumb-drive (16GB on average).
We can also host video transfers onto YouTube for $3 bucks apiece.
How much data storage does VHS footage require?
Let's give you an example of how much space a VHS transfer can take.  A recent session of VHS transfers included 7 tapes.  Those tapes carried between 20-90 minutes of footage apiece.  In total, we transferred 310 minutes of footage from those 7 tapes.  The 5+ hours of footage resulted in 3.63GB of data.  Therefore, a half hour VHS transfer averages 360MB of space.  The file types are normally MPEG-4 videos with 640×480 dimensions.
Below are more data points for a normal VHS transfer: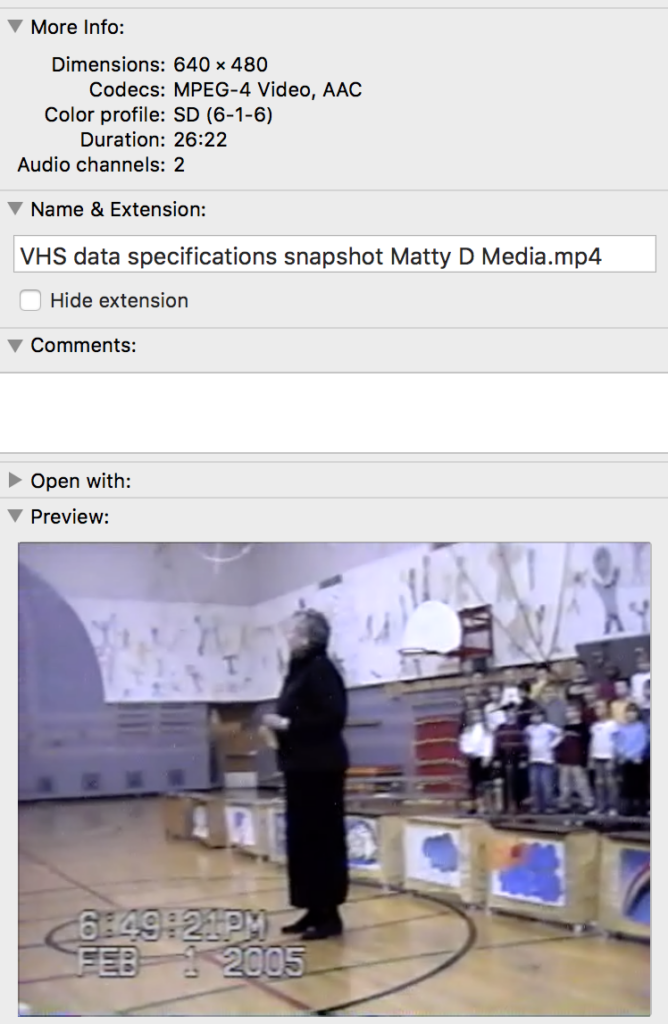 How to keep VHS copies private online
Videos uploaded to YouTube can be shared as either a "public" video or an "unlisted" one.  Public videos are searchable by the general public.   For example, if your video is entitled "Edie Family Reunion 1989," anyone searching YouTube or Google for that exact phrase would likely find the video.
Conversely, if the video is saved onto YouTube as an unlisted video, only people who have the unique URL link can access the video.  For example, you can watch this video of a mother playing with her boys on a playground if you had this exact link:
https://www.youtube.com/watch?v=pFBkOWa0_NQ
 .  That video is an example of an unlisted video on YouTube.  It has just a handful of views.  Matty D. Media can host unlisted videos on its company channel for VHS transfer customers.
If you want your video to be private, the best option is to manage who has access to the actual video file.  Matty D Media uploads every video file onto Dropbox.  The customer can download the video file, save it to a hard-drive, and manage who can have access going forward.
The Matty D. Media VHS transfer service does not include a DVD copy.  The VHS transfer service includes one Cloud-based storage route.
VHS Transfer Service Lawrence, Kansas
This service is offered by Matty D. Media, a limited liability company in Lawrence Kansas.  Offer subject to change.  The core service is an analog digital video transfer (and upload).  This offer is also based on availability.  We reserve the right to limit 5 VHS tapes per person at a time.  There is a $20 minimum per order.  This service does not include physical delivery of VHS tapes (except for during the COVID-19 global pandemic).  E-mail mattydmedia@gmail.com or call (785) 917-1999 to coordinate a transfer.