As small business videographers, we often capture the little success that clients have during their growth.  However, this week so many of those little successes resulted in one huge expansion.  Construction Specialties unveiled their new building during a grand opening on Thursday night.    It was a proud moment for the Lawrence home remodeling company.  It was also a special moment for Matty D. Media, because we have documented so much of the hard work this team has done to make this dream a reality.
Construction Specialties of Kansas origin story
Construction Specialties started in 2014 with a modest staff and the dreams of founder Mike Warner.  As a long-time sales person in the home improvement field, he wanted to deliver better on promises being made to clients.
Years later, the YouTube library for Construction Specialties shows its growth trajectory.  Small bathroom remodels and kitchen jobs soon graduated to complete home additions and complicated historic remodels.  In 2017, the company added a project manager named Nick Walters.  Later, he became a co-owner of the company.  It grew exponentially.
Perfect Match for Local Videographer and Small Business
In 2015, Matt DeSarle started his video production "Matty D. Media" with humble beginnings and small jobs.  Shortly thereafter, DeSarle and Warner were introduced by Lawrence realtor Thomas Howe.  The two began producing HGTV-styled videos about cool home remodeling projects.  Prospective clients could see the value Construction Specialties was delivering.  Their YouTube channels looks like a Home Makeover, Lawrence Edition.
Construction Specialties Growth Goes beyond a building
Before unveiling a new building, the business began laying foundation for a stronger staff.  Long-time carpenter Bryan Cargill got promoted to office manager.  Long-time vendor Sarah Kellogg became the company's in-house interior designer.
Mike Warner's vision of building a new home for the company was coming to fruition with company momentum.
Construction Specialties Unveils New Building and Showroom in East Lawrence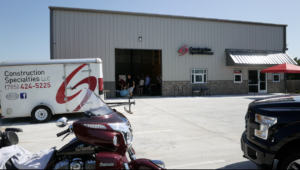 Construction Specialties' new building was unveiled during a happy hour reception with family, friends and clients.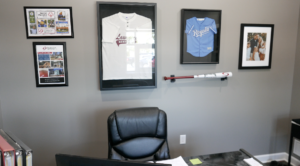 Attendees got to check out all the individual offices for key leaders at Construction Specialties.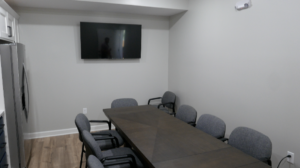 The new building features a conference room and showroom.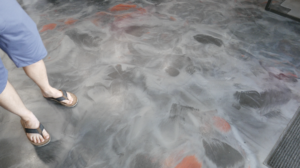 Product samples such as the flooring itself are throughout the new facility.
Matty D. Media is a video production service founded in Lawrence, Kansas serving local brands just like Construction Specialties.
Call (785) 917-1999 to connect with videographers in Lawrence and Kansas City today!