Videographers in and around Baldwin, Kansas are recording exciting new videos.  That's because Free State Horror Stories Season 3 is being produced at the Black Back Battlefield! 
The video series documents the history surrounding classic Kansas ghost stories.
Video production begins in Baldwin on new YouTube series
Cinematographer Eric Scherbarth and associate producer Liam Chewning began capturing individual stories in March of 2022.  New episodes will premiere on YouTube in October of 2022.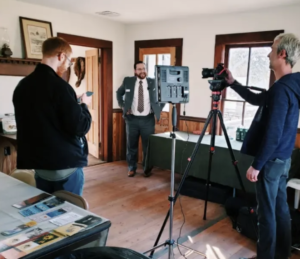 NEED TO BOOK A VIDEOGRAPHER FOR YOUR BALDWIN BUSINESS OR ORGANIZATION?
CLICK HERE TO CONNECT! 
About Black Jack Battlefield and ties to "Bleeding Kansas" Era
Interviews for the documentary begin with site executive director Johnathan Hart.  He explained the battlefield's critical place in U.S. history.  It was the site of the first blood-shed surrounding the issue of slavery pre-Civil War.
Hart described many ghost stories that visitors and staff have encountered over the years.
See Behind-the-Scenes photos from Instagram!
Matty D. Media is the parent production company for Free State Horror Stories.  Follow the series on YouTube, Facebook or Instagram.