Videographers with our team are back shooting corporate events in Lawrence and around Kansas City.  The COVID-19 pandemic had slowed many of the businesses we normally serve with commercial video production.  That normal business activity has returned.  And, after a difficult 2020 and 2021, our videographers near Kansas City are ready to hire and keep producing!
Corporate Event Videography's Grand Return
In Lawrence Kansas the spring seasons of 2020 and 2021 were missing an important ingredient.  There was no March Madness tournament in 2020 and an event without fans in 2021.   In 2022 not only did the basketball arenas fill back up with fans, but Kansas  fans flooded their local bars and restaurants to watch their beloved Jayhawks.  Our video crew was excited to capture many local business events happening in the magical championship run for the 2021-2022 Jayhawks.  This culminated with a national video marketing campaign.  Ally Bank hosted a "bar takeover" during March Madness. Ally sprung a $50K tip on Tavern staff. We were there to capture it all! Our crew's media assets helped gain local and national news coverage.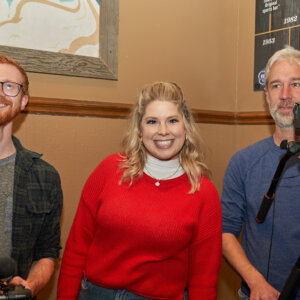 Videographers capture in-person and on stage
Corporate events and watch parties aren't the only in-person events making a comeback.  Many local companies are making their dramatic return to the literal stage.  We are producing for Life Restoration Ministries and its Juneteenth Celebration at the Lied Center.
This mixed-media presentation features a stage play combined with highlight videos.
Corporate event venues call for pro videographers
Our videographers continue to capture speeches, presentations, and create highlight videos from other corporate events.
Matty D. Media and videographer Drew DeRose recently produced a recap video of the State of the City address in Gardner, Kansas.
Book a videographer near Lawrence or the Kansas City area today.  For a custom price quote, please visit our corporate event video survey.  You should have a cost estimate on our corporate event video package's by the end of the business day.  Feel free to also call or text (785) 917-1999.