Matty D. Media Origins
Matty D. Media started in 2015 by television news producer Matt DeSarle to provide professional video production services to local businesses and organizations.
Matt DeSarle and Eric Scherbarth Co-Produce Videos
Since launching in 2015, the Matty D. Media team has included a tight group of local artists, employees, and even paid interns.  Between 2015 and the global pandemic of 2020, Matty D. Media had produced approximately 600 professional videos for small businesses and local organizations.
During that time, filmmaker Eric Scherbarth and Matt DeSarle were introduced by their spouses who worked together at the KU Libraries.  They started co-producing projects together and quickly gathered momentum.  Eric would focus on the cinematography and Matt would edit all the videos.
This workflow mostly continues to this day.
Global Pandemic Reshapes Video Production Workflow
The global pandemic changed how we interact with clients.  We used to always meet with clients in person to brainstorm pre-production ideas.  Today, most of the pre-production work happens on Zoom.  The revision process for video editing is communicated mostly through emails and phone calls.  However, we are proud to keep producing the high editorial standard that we've set since 2015 in Lawrence, Kansas and the surrounding Kansas City region.
Matt DeSarle Career Autobiography
I started my business in 2015 because that was the year I became a father.  I didn't want a 10 o'clock newscast to stop me from being the dad I aspired to be.  Still, leaving the news business was a tough choice.  I enjoyed the team camaraderie of pushing through a chaotic news day together, the daily hunt for compelling storylines, the race to beat daily and hourly deadlines, and the art of tying all the elements together.  Luckily, Matty D. Media still leverages that experience for small business storytelling.
My video career really began in 2000 as a high school senior.  I made local news because I interviewed then-President Bill Clinton.  I worked while a high school student as a cameraman at a local TV station in my hometown of Kingston, New York.  I wanted to be a sports anchor and so I studied television production at Plattsburgh State University.  In 2005 I returned to Kingston to take my first full time job in the television industry as a video editor.  My love for video editing blossomed.  It is still a core service and what makes Matty D. Media tick.  In 2006 I took a full-time position as a news producer at a cable news station in Albany, New York.  This is really where I worked on my craft as a writer, producer and editor.  I produced TV newscasts in Albany from 2006-2013.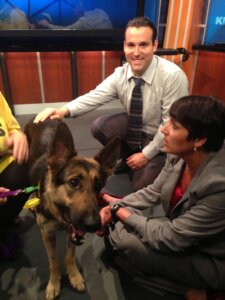 In 2013 my wife took a position with The University of Kansas.  We moved to Kansas and I took a position with the ABC News station in Kansas City.  I worked at KMBC-TV from 2013-2015.  It was a fascinating tenure.  I produced an interactive program on KMBC.TV called "The Wrap," in addition to producing segments for the newscasts and managing the station's social media accounts.  In 2014 and 2015 I was credentialed to cover pre and post-game activity with the Kansas City Royals.  After my career transitioned from producing video content for television audiences, to digital platforms like Facebook and YouTube, I felt it was the right time to scratch my entrepreneurial itch.
Cinematographer Eric Scherbarth Captures Lawrence Kansas
Most of the 4K video productions you see on our portfolio feature the stunning cinematography of Eric Scherbarth. Eric Scherbarth has over fifteen years experience shooting and editing digital content. He has a Masters in Fine Arts in Film Production degree from Columbia University. Eric is a director of photography during cinematic productions at Matty D. Media LLC. Among others, Eric's camera work shines in works for the Kaw Valley Farmers Market, Construction Specialties and K-State Research and Extension of Douglas County.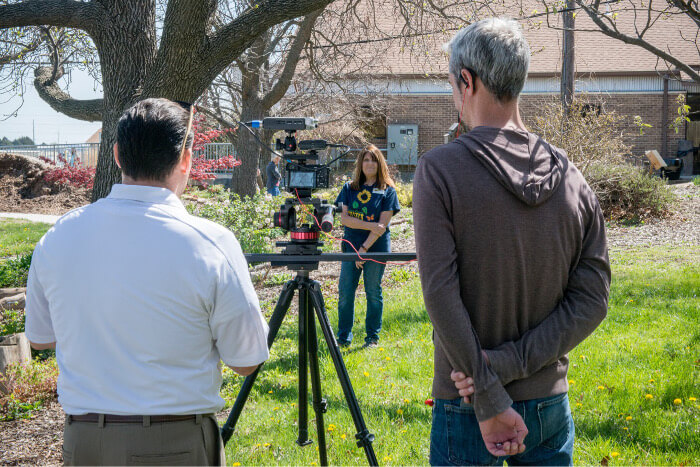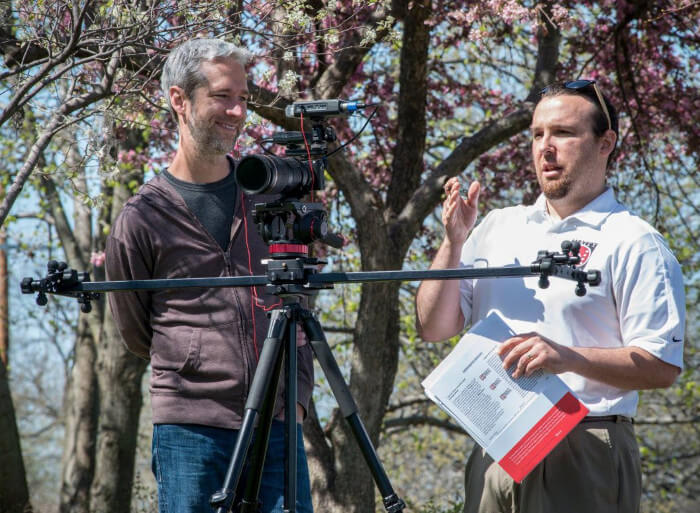 Cinematographer Eric Scherbarth manages a 4K video camera and a dolly track slider during a video production for K-State Research and Extension, Douglas County.
Eric Scherbarth began his film career in New York City where his clients included Yelp, Zillow, AT&T & Rutgers University. Eric moved to Lawrence, KS in 2015 where he began working within Lawrence and the Kansas City Metro.
Are you looking for a job in multimedia? We're always interested in partnering with local freelancers and has ongoing job openings. Click here and send us a note!
Cinematographer Eric Scherbarth and director Matt DeSarle work a video production for K-State Research and Extension, Douglas County.
Lawrence Preservation Alliance Event
Video editors, interns and associate producers
Since 2015, our small business has been fortunate to have many interns, part-time editors, and other creative freelancers join us for great project work.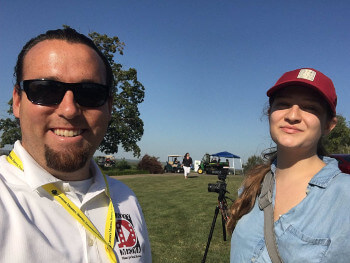 Lindsey Peavler shined as a videographer and video editor while interning with Matty D. Media.  She graduated from The University of Kansas in 2015 with a BGS in Film and Media Studies and a Minor in Business. Lindsey began freelance video editing in Kansas City after her graduation working for local organizations, businesses, and production companies.
Video Production Internships for Kansas students and more
Austin Mitchell-Goering started working with Matty D. Media in 2016 as an intern with The University of Kansas Film and Media Studies program. Austin's filmmaking style includes a blend of high paced action and a sharp focus on detail. Now an independent filmmaker, Austin works for sports brands such as The Lacrosse Network. He continues to work with Matty D. Media on special projects that require stabilized cinematography of action shots in the field. For example, Austin "went underground" to capture a foundation repair crew at work. Watch this video. You'll "dig" Austin Mitchell-Goering's cinematic style.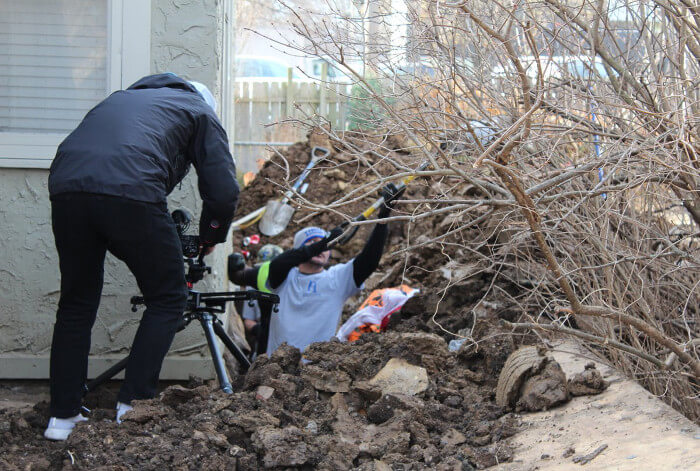 Are you looking for a video production internship working with local Kansas businesses?  Matty D. Media has worked with The University of Kansas to host an internship program and is open to more. If your school's communications or media department is looking for new internship sites, please click here and send us a note. We are willing to pay interns for their time.
Video production crews customized for local business
In addition to cinematographers and editors, Matty D. Media builds video production teams to fit small business needs. We work with Lawrence Kansas, photographers, graphic designers, voiceover artists, and other creative talent to match our client's aesthetic appetite.
A team that includes Director Matt DeSarle (taking photo), cinematographer Eric Scherbarth (center), and photographer Kristol Kumar work a Matty D. Media video production during a cemetery preservation workshop.