Matty D. Media is growing its video production company and selling some used gear during that process.
Most of the used video production and audio gear is listed on eBay.
VHS to Digital Equipment for Sale in Kansas
One of the most popular production services by Matty D. Media is the VHS to Digital offering.  Customers love having their VHS tapes digitized by a local office.  However, customers who want to DIY their VHS footage can with this bargain.  A VHS to DVD kit is listed for only $49.99.  Customers with a PC can digitize the footage at home.  The kit also comes with four blank DVDs to copy your newly-transferred footage.
Please visit listing https://www.ebay.com/itm/234615844411 to bid on this item.
Live-streaming Video Gear for Sale
A key to turn your DSLR into a live streaming camera is for sale.  The Cam Link 4K USB key by Elgato was listed for a starting bid of $69.99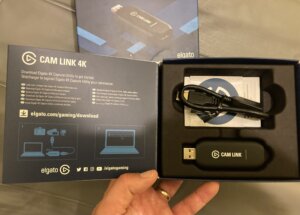 Please visit listing https://www.ebay.com/itm/234615941317 to bid on this item.
Matty D. Media specializes in productions that require video editing.  Therefore, live-streaming services were a short-lived need during the height of COVID-19.
An audio recorder was recently sold on eBay by Matty D. Media.  Please stay tuned for more affordable video production gear coming soon!
In some rare cases, we will rent out video equipment for existing clients.
When DIY Doesn't Work for Video Productions
We specialize in custom video production services for local business.  Matty D. Media produces commercials, testimonial videos and homepage welcome videos.  Most times, business owners and marketing directors are too busy to produce high-quality videos.  That's why we offer those services at an affordable price.  To get a custom quote on corporate video or event videography, look for the "Price My Video" button on this page.
Or, text or call (785) 917-1999 to chat with Matty D.