A momentous occasion at KU doesn't call for one event videographer in Lawrence Kansas.  It calls for a team.
As 2018 drew to a close, The University of Kansas celebrated an important anniversary. The Kenneth Spencer Research Library turned 50!
Along with students, staff, faculty, dignitaries and members of the public, a 4-person video production crew from Matty D. Media was there to cover the anniversary.
What is the Spencer Research Library?
The Kenneth Spencer Research Library is a destination for researchers and scholars from around the world. Its collections include ancient and medieval manuscripts.  It hosts one of the largest collections of Irish literature outside Dublin.  Special collections in the history of science and education are featured.  Spencer also houses the Kansas Collection, the Wilcox Collection of Contemporary Political Movements, and the University Archives (according to the library's website).  
How Pre-production Planning Improves Videos
Video director Matt DeSarle worked closely with LeAnn Meyer on this project.  Meyer is a marketing manager for KU Libraries.  During pre-production, Meyer requested a dual purpose production.  Video production included capturing the celebration itself.  Additionally, one camera was dedicated to gathering memories about Spencer from alumni (and others) for the university archives.  Their pre-production meeting was the first of six steps during video production.  Click here to read Matty D. Media's 6-step video production process.
Video Production Begins on "Spencer 50"
Days before the anniversary celebration, Meyer gave the video crew a tour of Spencer Research Library.  Days later, a videographer returned to gather beauty shots of the collections.
The anniversary event itself featured a mix of tours, refreshments, and short speeches.  People got to take in the sights and sounds of Spencer.  The video production crew was divided into two teams.  The first team was focused on that night's celebration, while the second team was dedicated to the archival interviews.
NEED VIDEO COVERAGE FOR YOUR EVENT?  CLICK HERE FOR PRICES AND PACKAGES.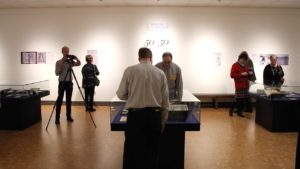 Lawrence Video Crew Divides And Conquers
Three cameras roamed the spacious event as guests browsed Spencer's treasures.  Cinematographer Eric Scherbarth was focused on capturing the many guests socializing while enjoying the collections.  Scherbarth captured many compelling shots with a 4K cinematic camera matched with a tripod and slider that "floated" through different spaces.  His cinematography provided point-of-view shots, as if the viewer watching was actually inside the event.
Videographer Aaron Groene captured many of the guided tours circulating throughout the night.  Groene himself is a KU alum.  Groene gathered what are called establishing shots.  For example, he captured beauty shots outside as snow fell on the historic building.
How Interview Footage Improves Event Video
Matt DeSarle, Matty D. Media owner and executive producer, worked the room interviewing guests and KU faculty, officials, and staff.  For example, a married couple from Buffalo New York offered comments.  Chancellor Douglas Girod and Interim Provost Carl Lejuez also provided thoughts for the recap video.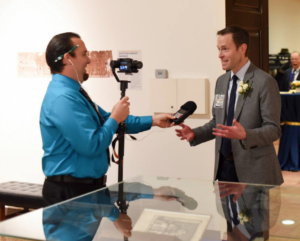 Moments from a heartfelt speech from Beth Whittaker were weaved into the video.  Whittaker is the Director of Spencer Research Library.  A passionate plea to preserve history from English professor Johnathan Lamb also prompts a new sequence in the final video.
How to Archive Important Videos
A second video production crew stood by during the 3 hour event to moderate those archival interviews.  As is always the case, Matty D. Media delivered the video files on Dropbox.  This process serves two purposes.  For one, a Dropbox transfer doubles as a digital backup in the cloud.  Secondly, the videos can be downloaded by the client in a matter of moments.  Video file delivery is the sixth and final step of Matty D's video production process.  Click here to check out all six.
On-camera interviews are often when the really compelling storylines pop up.  For as much planning that goes into production, organic moments often drive the process.  On this night, a handful of people took the opportunity to interview.  KU provided a camera and a private room for this session.  Cassie Warner, a travel blogger who has traveled the world with her fun-loving social media personality, asked five questions to each interviewee.  One interviewee in particular "stole the show."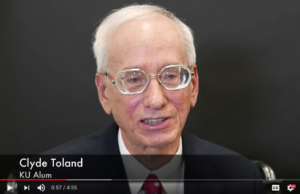 Clyde Toland was actually in attendance when The Spencer Research Library opened in 1968. He returned to his alma mater 50 years later for its anniversary celebration.  His commentary helped thread together the entire 5 minute recap video.
You can watch the full video here on KU Library's YouTube channel.
About Lawrence Video Company Matty D. Media
Matty D. Media is a video production company based in Lawrence, Kansas.  It employs videographers in Lawrence and surrounding areas.  Matty D. Media specializes in videos for small businesses and local organizations.  Call or text (785) 917-1999 or submit a "free consultation" contact form on this page to connect.  Matty D. Media also serves as a social media marketing agency for many of its Lawrence Kansas clients.
Photography of Video Crew by LeAnn Meyer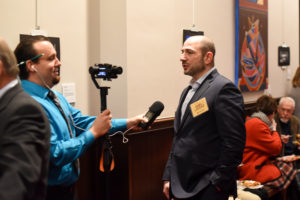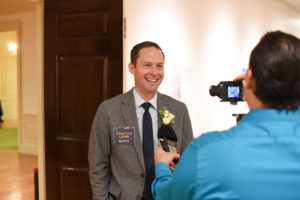 We are still basking in the glow of a stellar evening celebrating 50 years of Kenneth Spencer Research Library. ✨ Thank you to everyone who came out to support us!
.
Treat yourself to this gorgeous gallery of images from the event: https://t.co/iPc4305O0U ? pic.twitter.com/Q6UJlp9hXW

— KU Libraries (@kulibraries) November 19, 2018