The Salina Kansas Police Department deploys video production services on its newest recruiting mission.
The department is rolling out a new video series. It wants to captured young people interested in a law enforcement career. New videos capture a real-world glimpse at police life. Officers give their thoughts in unscripted interviews. Viewers see a mashup of body camera footage from actual police investigations.  A videographer was also embedded with patrol officers to document their work.
Video production is performed by Matty D. Media LLC, a video marketing company in Northeast Kansas.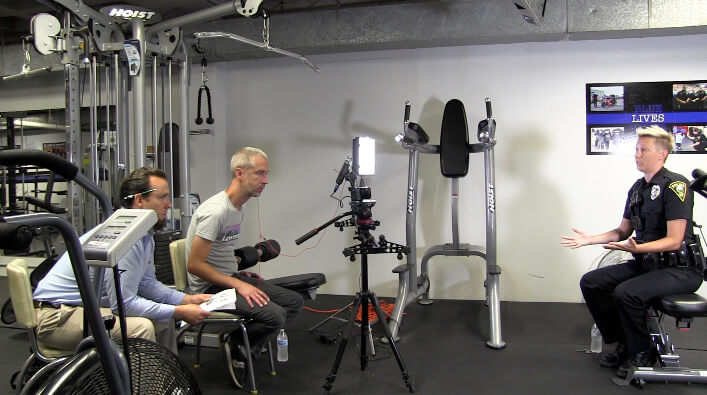 Breaking up topics into different produced videos
The first of three videos was published earlier this week on JoinSalinaPD.com and on the City of Salina's YouTube channel. Two more videos will be released in the coming weeks. One will focus on how the department's uses new technologies.  Meanwhile, a final video will focus on how the department helps military veterans transition to a career in law enforcement.
The importance of closed captioning in video marketing
Closed captioning for videos is available on YouTube. Open the video on YouTube and click on the CC button at the bottom right hand side.
How to use a journalist to tell your brand's story
The interview-based video production services were led by producer Matt DeSarle. DeSarle's resume includes several TV news outlets. He's worked for local PBS and ABC News stations. The journalistic approach shows. The nine unscripted interviews cover a range of topics. Officers talk with DeSarle about common crime in Salina.  They also open up about what gets their adrenaline pumping. A voiceover artist delivers the only scripted material. He ties some of the topics together.
The videos also offer a snapshot of Salina, Kansas in the summer of 2018. Event coverage includes videography of the Smoky River Festival. The music and art festival draws thousands of people annually. Likewise, "Fishing with a Cop" is another community event featured.
Salina police officers are very vocal about the community support they enjoy. That public support was on display when the first social media videos were shared.  The Salina Police Department's Facebook page hosts the videos. The premiere gained 3,400 organic views in its first two weeks.   In that short timeframe, the video got 37 shares and 84 likes.  The public support continues to grow.
How drone videography adds production value
Social media videos produced by Matty D. Media will promote the Salina Police Department's job opportunities, commitment to military veterans, and use of technology in law enforcement.
The video production services don't just patrol the streets. Cameras take to the sky as drone videography give an aerial view of Salina's skyline and neighborhoods.