Custom video production continues its ascent as a crucial piece of website design.  Unlike well-written copy or sleek graphic design, videos start building trust with audiences because of the personalities in focus.
When Data Drives Website Design
Midland Genetics is a 4th generation family business that knows all about trust.  They supply seeds to farmers across 3 states.  The right combination of seed can make or break a farmer's year.  Knowing individual traits is vital.  And ahead of its busy sales season, Midland Genetics asked Matty D. Media to create a virtual tour for farmers.
Matty D. Media worked with Kansas City website design company Tekki to execute Midland Genetic's request.  They wanted farmers to be able to watch custom individual about the best performing seed in their area.
Midland Genetics services 8 different regions across Kansas, Nebraska and Missouri.  They focus on corn hybrids and soybean varieties.  Although the right mix of seed can be an infinite prospect for a farmer, Midland Genetics stressed the importance of simplicity with this process.  Wes Sylvester, the company's marketing director, wanted the experience to be easy for the farmer.  Therefore, only the best (2 or 3) performing products from each region are featured.
YouTube Playlists Correspond with Web Design
Matty D. Media created 16 YouTube playlists, eight for soybeans and eight for corn seed, to present the highest yielding seed in those areas.  As the final data was being reported back from actual research plots, Matty D. Media was adjusting the YouTube playlists accordingly.  The best performing product plays first in the playlists.  Each video series is effectively a top 5 list for farmers.  A YouTube playlist in Southeast Kansas may lead with a video about a drought-resistant corn hybrid.  Meanwhile, a playlist in fertile Northwest Missouri starts with a video about a high-yielding super seed.
Why Sales Team's On-Camera Presentation Matters
Camera crews spent a few hours out in the soybean and corn fields with Midland Genetics sales reps to showcase each product's unique characteristic.  Midland Genetics sales representatives Glen Pyle and Todd Harring lend their expertise in the videos.  Their ability to speak from first-hand experience about the dozens of seed varieties reiterates authority to their audience.
Matty D. Media is a production company that specializes in documentary-style videos.  Producer Matt DeSarle avoids scripted material in the spirit of presenting authentically.  Midland Genetics is an ideal subject because they understand their subject matter.  Its sales people can easily go "unscripted."
The videos were produced to simulate what a farmer experiences during "field day."  Field day is like the Super Bowl for Midland Genetics.  Farmers are welcomed to the Ottawa, Kansas company headquarters to see how different seeds have performed.  Sales reps like Glen and Todd escort farmers around the research plots, answering all sorts of questions.  Farmers review different seed traits to match their unique needs.  For a farmer unable to make that one day in person, the videos fill that gap before a sales representative can visit them directly.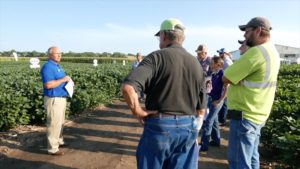 Making Complicated Web Design Look Easy
Sixteen unique web pages were created to host the video series for all those regions.  The eight regions were multiplied by the two main seed types — soybean and corn.  David Jackson managed the website design and layout of this virtual plot tour.  David's focus on mobile-friendly elements is perhaps best displayed with the "choose your adventure" style intersection between corn and soybean options.  Within only 10 seconds of visiting the website, a farmer could have easily navigated to his specific region and specific plant type.  With shoppers normally spending 1 or 2 minutes on the average website, this design devotes precious seconds to education about the seed.  And this isn't the average retail website.  This is agriculture.  A buying decision could impact the farmer's livelihood.
Because Google owns YouTube, it was important that written descriptions in the YouTube summaries relay data from the product guide.  You'll notice each page addresses important factors such as maturity date, emergence, and tolerance levels to specific threats.
Matty D. Media is a multi-media company in Lawrence, Kansas.  To learn more, visit us on Facebook.