How to upload marketing videos properly
It is important to understand how to upload marketing videos properly onto the major digital platforms.  While there are best practices for each, one overarching rule is king.  Every digital platform wants users watching videos on its channel.  For example, Facebook does not want an active user to migrate to YouTube to watch a video.  Facebook has video tools on its own site.  And so here are some big picture best practices for how to upload your branded marketing video properly to those major channels.
How to upload video to your business website
The best practice for getting your marketing video onto a company website is through YouTube.  Unlike social media platforms, if you upload the video directly to the website, it could slow down load time for the end user.  Use the strength of YouTube to your advantage.  In addition to the mechanics YouTube brings to the table, it also brings a powerful search engine factor.  YouTube is owned by Google.  Therefore, by hosting your YouTube video on your business website, Google will be more incentivized  to send online traffic your way.  CEO and owner of Tekki Website Solutions David Jackson explains more about this in the video below.
Tools to utilize when uploading to YouTube
YouTube has a variety of "back-end" tools.  Many are referenced in the video above.  Additionally, if you are sharing a long video with someone because you want them to watch an except, here's a tip.  Click on the share button to the bottom right below the YouTube video.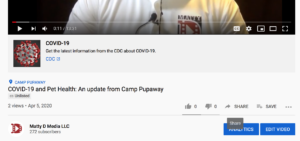 Afterwards, select the exact time you want the video to begin playing at.  This number will be shown in total seconds.  For example, you'll notice the new weblink ends in "65" to represent the one minute and five seconds mark.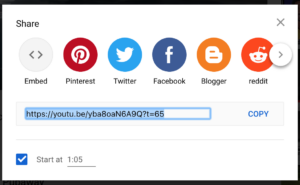 How to upload marketing videos to Facebook
By uploading a marketing video to Facebook, you are obviously leveraging the social circle that you have built.  Your Facebook followers could stop scrolling through their phones when they see your video automatically play on their news feeds.  This would not happen if you link a YouTube video.  Facebook also has a user friendly closed captioning tool.  It auto-generates the words spoken in the video.  That transcript may be 90% complete in terms of spelling and grammar.  However, correcting those weaknesses could take 5-10 minutes.  You could make the argument that 90% of good transcription is better than 0% closed captioning because you waited for perfection.
If you are working with a video production company to create your videos, always ask for the video file to be transferred.  Matty D. Media, a video production company in the Kansas City area, uses Dropbox to deliver all video files to its clients.
This article is a work-in-progress during the COVID-19 pandemic.  Please e-mail mattydmedia@gmail.com with any specific questions.