Kansas small business people share experiences in COVID-19 "Survival" video series
Our video production company is interviewing Kansas business leaders and entrepreneurs to share experience and advice during the COVID-19 pandemic.  The video series is called "Coronavirus and Kansas Small Business Survival."  The first episode was with KU Small Business Development Center director, Will Katz.  Katz set the table for wild number of weeks to come.  He advised small business owners to hold strong to their self identity.  And as the stress on brands continued to intensify, his words became more relevant with each passing week.
When the national emergency was declared, Katz wrote a note to Kansas business owners.  It was featured in a resource guide provided by the Lawrence Chamber of Commerce.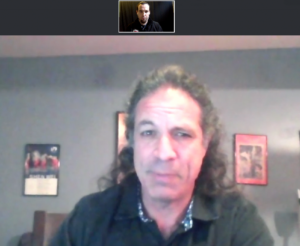 When the federal government rolled out disaster loans for small businesses, Will Katz rejoined the videos series.  Click here to watch Will Katz's guidance about the EIDL and PPP loan programs.
Lawrence Kansas Chamber of Commerce President Bonnie Lowe also offers advice early in the series.  She speaks about the chamber's role during this difficult time.  Lowe leaves her direct phone number in an effort to help both chamber member and non-member local businesses.
New videos in this series are published every weeknight at 10 p.m. Kansas time. 
Tips for entrepreneurs during COVID-19 stay home orders
Many of the video segments also give practical advice to small business owners.  The video series does not go into medical health.  However, some of the tips help with overall mental and physical health.  Kansas City area interior designer Christine Julian gives free tips for home decor during stay home orders.  She speaks about natural lighting, plants, and other interior design secrets to lift spirits.  Lawrence Kansas chiropractor Dr. Drake Kayser gave several recommendations for improving joint and muscle health.
Personal trainer Travis Barrett of Evolution Athletics also contributes to the video series.  His interview is more focused on how they have evolved business practices during the crisis.
Video series documents business health during COVID-19
Super practical areas such as food and employment are addressed in the video series.  Employment expert Barry Kingery of Express Employment Professionals discussed the local jobs impact days after the national emergency.  Restaurant founder and business administrator K. Meisel chats about local food supply.  Like many restaurant owners, Meisel talks about how Leeway Franks is shifting to carry out and delivery services.  Her and Lee Meisel's butcher shop also ramped up production on meat bundles for families hunkered down at home.
Video series focuses week on free digital media tips with experts across Kansas
New videos in this series are published every weeknight at 10 p.m. Kansas time.  In the third week of production, the series focuses exclusively on digital media tips.  Website designers, social media consultants, and Facebook Ads managers alike contribute.  Here's a rundown of those segments:
If you are a small business owner with expertise to lend to fellow entrepreneurs, please e-mail mattydmedia@gmail.com.