Videographers in Overland Park can offer a mixed bag of experiences, but Matty D. Media always delivers the same high quality video production for small businesses.  Matty D. Media serves mostly the Kansas City and Topeka markets.  During the first year navigating COVID-19 and its economic challenges, Overland Park area businesses kept producing videos with Matty D. Media. Those companies are seeing the results in video views, search engine results, and therefore, return on investment.  Our Overland Park video production team is a mix of filmmakers and television producers.
Johnson County Business Communities Served by Video Company Matty D. Media
We produce videos for Johnson County plumbers, doctors, veterinarians, hotels restoration specialists, and more local companies.  Matty D. Media is a video production team that serves Overland Park, Olathe, Lenexa, Prairie Village and surrounding areas.
How to update clients with video marketing
One of the Johnson County Kansas small businesses Matty D. Media is proud to serve is Lutz Plumbing.  Lutz Plumbing has been in business for more than 100 years.  However, the long established company isn't resting on its laurels.  It turns to Matty D. Media to freshen up its website and social media with newsworthy videos.
Matty D. Media also produces traditional 30 second commercials for Lutz Plumbing, based in Lenexa.  This commercial aired on KCTV-5 starting in February of 2021.
Click here to watch more Lutz Plumbing videos or subscribe to its YouTube channel.
Johnson County healthcare providers produce with Matty D. Media
A popular video production format for local business is testimonials.  And when you've been in business for decades like Hoffman Orthodontics has, you have a lot of happy customers over the years.
A new video series produced by Matty D. Media in 2020-2021 highlights many of those patient stories.  Although HIPPA is a standard that we respect, patients can choose to volunteer their stories.  And you can see that Hoffman Ortho patients have shared their stories in style on YouTube.
"Puppy Love" for Lenexa Video Production
Even the dogs have put their paws on a release form for Matty D. Media clients.  Our video crew produced a documentary for Lenexa dog kennel, "Camp Pupaway."  You can see how this Johnson County business differs from its competition on YouTube.  The video crew got wet during production.  We sank a few GoPro cameras into the doggy pools.
Matty D. Media is a video production company based in Lawrence, Kansas and has a passion for its corporate video clients in Overland Park.  Matty D. Media produces and manages a YouTube channel for a plumbing company based in Shawnee.  We filmed a short documentary with a dog kennel in Lenexa, produced a video for a hotel grand opening in Overland Park, and create social media videos for an interior designer based in DeSoto.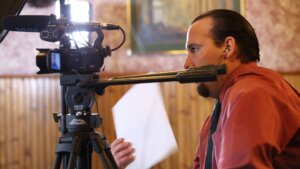 Company owner Matt DeSarle was also a TV news producer at KMBC-TV for two years, where a large viewership resides in Johnson County.  He also served as a digital producer for the Shawnee Mission School District in 2017 as the district transitioned its communications team to its new Center for Academic Achievement.
Matty D. Media has small businesses best interests at heart.  Call (913) 735-0783 or email mattydmedia@gmail.com to begin a free and custom cost estimate on video production.