The way how business clients request revisions during the video editing process can make a huge impact.  For one, video production companies like Matty D. Media do not have the industry experience that our clients have.  And so business clients have the institutional knowledge to catch what video crews can't see.  Secondly, each video company has its own process for video editing revisions.  Corporate clients should consider how to best leverage that revision process to get the best value.
Important Note to Existing Clients:  As of June 2021, revision requests that are delayed one month or longer will have changes subject to hourly video editing rates.  
How Revisions Affect Video Editing Timetable
A common mistake that marketing managers make is waiting weeks before submitting revision requests and expecting those changes can be delivered the next day.  Oftentimes those marketing managers are pooling feedback from a variety of internal partners.  And so it can be a complex issue.  However, the re-editing round 2 is also part of the creative process.  And so squeezing this round into a tight window can negatively affect the quality.  Also, most video production companies are project based firms.  Each project has its own timetables.  And so if a video edit was delivered within 2-3 days for review one month ago, it's unlikely the re-edits can be turned around within 2-3 days if it took one month to receive feedback.  Video production companies would naturally take on new project weeks and months later.
As you can tell, there's a human element here.  Video editors can get into a rhythm on a project.  If they go months without looking at a project because they're awaiting feedback, it could affect how quickly they accomplish the next round.  Yes, video edits can "go cold," in a way.
How to Manage Timetables for Longer Video Editing Projects
At Matty D. Media, we promise our business clients they'll see video edits within two weeks after footage is gathered.  We also ask for clients' cooperation to maintain this two week turnaround for everyone.  Sometimes large projects call for reviews in smaller portions.  A client might receive five videos to review first as video editors continue working on a 10-part series.  Our video production company asks for feedback to be delivered within 2 weeks.
For marketing managers who have the difficult task of pooling feedback from everyone, consider these tips.  Give stakeholders a set deadline for feedback.  For example, videos can be shared on a backchannel while anyone in a company has the opportunity to review for one week.  "Feedback is due by Friday," is a tactic that has worked.
In the case where multiple videos are offered for review, consider allocating different videos to different departments for review.  Ask your video editor if he or she can start on a re-edit for video 1 on the seafood department while meat and dairy dissect their video 2.
The Cost of Video Editing Revisions
One free round of revisions are included in every video Matty D. Media produces.  If feedback is delayed a month or more, continued video editing will be subject to the current hourly rate.  When this article was published, the rate for video editing was $55 per hour.  Rush edits are available for a small premium.  Video edits can be delivered within 3 business days for a 30% mark-up.  For example, a video edit that would normally cost $150 would cost $195.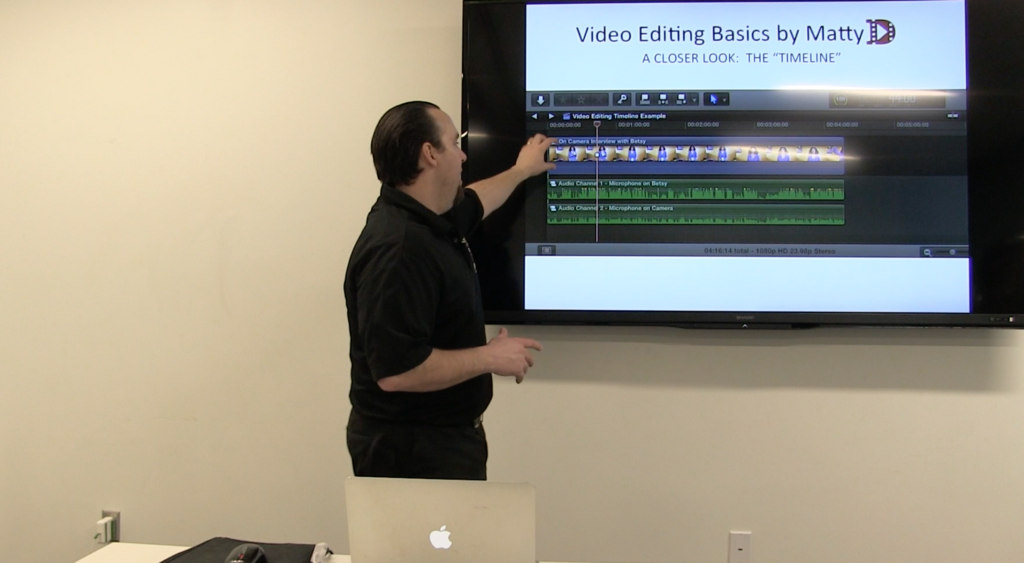 How Video Editing Revisions Are Communicated
Typically, Matty D. Media emails clients unlisted video links so that they can review video edits.  We use YouTube and Vimeo to share video edits with clients.  The first edit is normally referred to as a "first cut."  Sometimes the "second cut" is effectively the final cut.  In some cases, those video links can be password protected.  The videos will not be published until the client approves.  The video file is always securely delivered to a business client on Dropbox.  The client has universal license to distribute.
We ask that revision requests are made by email and communicated in one thorough note.  We ask clients to make note of the time marker, or timecode, in reference to where they want changes made.  In most cases, clients are asking us to simply "add" or "remove" elements.  Please see a classic example of a video editing request below from a real client below:
Video Editing Example Email for Revision Request
If a client wants help brainstorming what material to add to a project, we are happy to help.  There are a variety of ways that we can coordinate a further review of the source material.  Oftentimes, the first cut is slightly longer than the end goal.  This is done intentionally because it's easier for the client to request something to remove rather than brainstorm something he or she cannot see.
Matty D. Media is a Kansas City area video production company that produces a lot of documentary-styled work.  People are often interviewed for videos we produce.  Part of our review of the video footage includes transcribing interviews.  Therefore, clients who are brainstorming revisions can look at transcripts while considering what elements to add and enhance their production.
What to look for during video edit reviews
The fun thing about our job is that we always learn about our clients' job.  Like you, we don't know what we don't know.  As clients offer a second pair of eyes on a video edit, we rely on their institutional knowledge of their own industry.  Here are some things to consider:
Sounds:  Clients should consider whether the sounds of the video strike the right tone.Example:  Matty D. Media is producing a video to promote a local bar.  We edit a video with customers clanking glasses and chatting in the background.  We assume that this is the normal tone of the business, unless the clients tells us otherwise.
Partnerships and competitors:  Clients should consider who makes the cut and who doesn't.Example:  Matty D. Media is producing a video for a local manufacturing facility.  Ninety-nine times out of 100 this facility manufactures products for its best client, ABC software corp.  If our video editor selected a clip on that 1% chance another product was being captured, we would happily revise the video edit to feature our client's most valued client.
B-roll:  Our video crew takes pride in learning about our client's company culture during the pre-production meeting.  We use this knowledge to pick the cover footage (i.e. b-roll) to put our clients in the best possible light.  However, the client's input on which b-roll shots should go first, versus which b-roll can be shown later in the video segment.  Generally speaking, we want to feature the best b-roll first.  That includes the most valuable imagery to the client and its customers.


When to use Stock Footage in Video Edits

Matty D. Media has a rich library that includes local archival b-roll from the Kansas City region as well as worldwide stock video.  Clients can request this library of b-roll to cover a variety of topics.  This adds to the flexibility of our video edits.  The cost of this footage is approached on a case-by-case basis.
Thank you for producing with Matty D. Media.  We look forward to delivering the proper tone, timing, pacing and visuals with all of our projects.  To contact a video editor directly, please call (785) 917-1999.