Facebook feed features everything but listings
At the 2017 Lawrence Home Show, Matty D. Media launched a new "TV channel." The Lawrence Home Feed is a collection of home improvement and interior design segments exclusively on Facebook.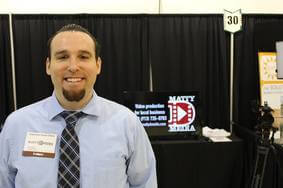 "It's everything but property listings," says creator Matt DeSarle.
The video channel was launched during the Lawrence Home Show, with a dozen two-minute segments produced for the channel that weekend.
Multiple home show vendors spoke to the Lawrence Home Feed about the trends they're seeing with Lawrence buyers. For example, supplier Pine Landscape Center is capitalizing on Lawrence's appetite for outdoor living and do-it-yourself projects.
If you have a story idea for the Lawrence Home Feed, please send a Facebook message to the page.