So you've become a video producer because you're recording all of these Zoom conferences?  Well, every great video producer needs a skilled video editor.  That's where Matty D. Media comes in.  We are a video production company in the Kansas City region specializing in video editing and field production.  Because COVID-19 has suppressed our filming in the field, we are editing a lot of Zoom conferences.  A lot!  Whether you are working with us or not, here are some considerations to make before recording your Zoom video conference for a future video edit.
How to prepare to be on-camera with Zoom
Joining a Zoom call for the purpose of a future video edit is really no different than joining a Zoom call for any other professional meeting.  However, it may cause you to think about being "on camera" differently.  Here are some tips we always give video clients before going on camera.  This resource gives tips about wardrobe and other housekeeping items.
 How to light yourself during a Zoom video
For lighting, the best type is always natural lighting.  If your home office doesn't allow for natural lighting, consider investing in a Ring Light or similar technology.  A common trait you will find with lights designed to improve video conference appearances is their balanced output.  If you are pooling together the lights in your home, consider the balance.  You do not want a back light visible behind you.  You will not want a harsh light to one side of your face.
USA Today recently published a "6 Steps to Look Your Best" on Zoom.  This article discusses lighting tips and other considerations in greater detail.  Click here to read the full article.
Zoom camera backgrounds and angles
Like the company cubicle, some people go all out with a mess of decorations.  Some people keep it very simple.  These Zoom calls can have the same tone.  If you want visually continuity during your video series, consider these two areas.  Should your Zoom contributors volunteer their own background image?
And do you want everyone on the call seen as they're listening to one speaker?  Or, do you want the camera angle to follow only the speaker.  The default for Zoom video conferences is for the camera to defer to the speaker.  We speak about this below.  However, if you want all of the panelists to be shown on camera even while they are listening, make sure you enable the "gallery view" option in your settings.
Click here to learn more about Zoom recording layouts.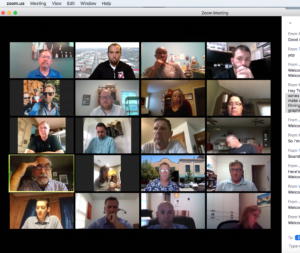 How to save and share Zoom video recordings
The moderator is the person who actually records the video conference itself.  Therefore, if Jack interviews Jill, Jack needs to hold onto the video file.  (He also mustn't fall down and break his crown).  After the video chat ends, a window will pop up on Jack's computer asking where to save the video file.  Jacks saves the raw video file onto his computer or device so that he can find it later.  If Jack hires Matty D. Media to edit his Zoom recording, he will be provided with a Dropbox folder link to upload his raw recording.
What video quality are Zoom recordings?
By default, Zoom video recordings are done in 720p quality.  That is not quite HD quality (1080p).  This is the case for the free version of Zoom, which is universal.  According to its website, Zoom technical support offers a "limited availability" HD recording program for "Business and Enterprise plans."  It also reserves that quality level for "large format broadcast events."  The read the full report from Zoom's tech support on this topic, click here. 
Meanwhile, a video editing company such as Matty D. Media can elevate a 720 resolution recording into a true HD resolution production in a variety of ways.  For one, we can crop the spokespeople and superimpose them onto a high definition background.  High end backgrounds are a trendy look for Zoom video chats.  We can also cover the video chats with appropriate cover footage.  There are a litany of ways to enhance these recordings.
The video files are MP4 file types.  This is a standard video file.  And it's a video file Matty D. Media can edit with.
How to moderator enables a polished Zoom video
When recording a Zoom video chat for a future video edit, perhaps the most important advice is to rely on a skilled moderator.  A moderator should make the guests feel comfortable answering questions.   He or she should stimulate a great conversation, or debate.  And there are some technical considerations to consider.
Zoom video recordings by default have a lag-time between spokespeople. The function of switching between the moderator's camera and the interview guest's camera is delayed. You can see that the interview guest needs to say a word or two before his camera is switched to. For example, the video recording switched to the interview guest's camera when he said "let's do it," and then the moderator's introduction where he says "Welcome back" remained on the guest's camera for a brief second.
Audiences may be numb to this delay from watching talk shows and similar news talk platforms.  However, this delay can be avoided by the moderator saying a few words before his official introduction. For example, the moderator could have said, "Okay we are going to record the show introduction now. (He takes a pause).  Welcome back to the video series…"
The moderator can also take show notes throughout the recording to remember which pieces need to be re-recorded.  People are inevitably going to talk at the same time.  This is especially true when questions are posed to a group of individuals.  Therefore, a good strategy would be to address the individual by name while asking the question.
"Jill, what do you think about the pail of water?"  Jack asks before Little Bo Peep gets a crack at the same question.
The moderator can also re-record elements of the interview later, when all interview guests have virtually "left the room."  Doing re-recordings is a good practice.  Questions can be asked with proper emphasis on important terms if the moderator knows which tone the conversation will take.  Intros and outros are also always worth re-recording additional times.
More ideas to boost production quality of Zooms
At the end of the day, recording in 720p and not 1080p is not the end of the world.  Especially if your final video will be watched online, the video file itself would likely be compressed anyway.  If your audience will be watching on a big screen television, you might want to consider HD videography options.  That's when the inferior 720 quality may look pixelated, or lower quality on a bigger screen.  Another consideration to avoid this is to have everyone contributing to the chat also record on his or her own camera.  An HD camera can easily sit on a tripod and behind the computer screen.
To learn more about affordable and professional video production options by Matty D. Media, please visit our corporate video production page.