How to upload, edit and share video on Instagram
This article is designed to help small business owners and managers of local organizations who want to leverage Instagram to build their brand. After you cover the basics here for properly sharing video, learn how to use the "stories" feature on Instagram. This article explains the basic workflow for sharing a video from your phone's photo/video library onto Instagram.
Why should you care?
Instagram is a platform that trends younger than Facebook and Twitter. It is also a social media platform with explosive growth. It has 700,000 active users. That number doubled in the past two years thanks to success of features like "stories" within Instagram. Instagram is also currently the most popular social media platform among kids ages 13-17, which may be counterintuitive to your assumptions about Snapchat. It's a tight race, however.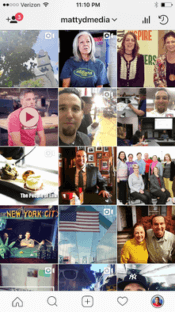 1. Capture the moment
Capture a moment by taking a video with your phone. Popular videos on Instagram are only between 5 seconds and 15 seconds long. The maximum length for a video is one minute. This allows for quick actions, like panning from one subject matter to a second one. Pick moments that include a spokesperson, or a compelling visual and/or sound. The more natural, the better.
2. Upload the video
​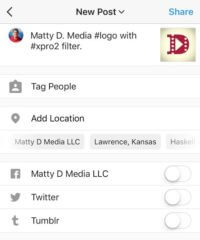 Begin the video upload process by tapping the plus icon at the bottom, center of the Instagram app.
3. Set to widescreen
This is an optional step. Once you have selected a video to upload, it will sit in a preview window with many different optional menu choices before you hit next and publish it. Tell Instagram that you want a widescreen version of your video to be published by tapping the icon with two diagonal arrows (pointing northeast and southwest). It's the icon on the bottom left corner of each photo below.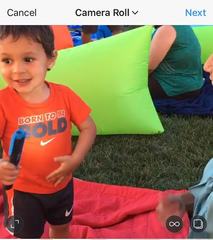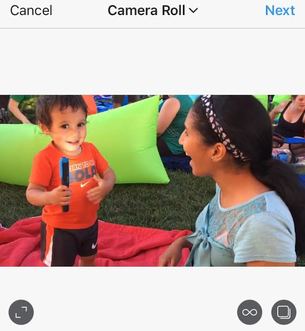 Look at the differences in the aspect ratios on the video previews above. On the left, the video is ready to be uploaded in a format that looks like a square shape. You can only see the boy in the frame. In the video to the right, you can see both the boy and his mother, because the widescreen option has been selected.
If you do not select this choice, a traditional HD video captured in 1920×1080 will be cropped automatically to 1080×1080 or what looks like a standard definition format. This could cut out what was originally gathered during a normal HD iPhone (or other smart phone) capture.
4. Choose a filter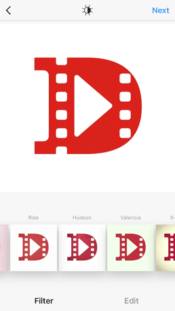 ​
Instagram offers 24 different photo (and video) filters. These filters are what helped Instagram gain its popularity in the first place. Experiment with how the filter will enhance your visual before moving forward. For example, the Amaro filter brightens the center of your picture. The Hudson filter gives the video (or photo) a blue tint. You can preview your video by playing it with a filter selected before moving forward.
Swipe from left to right to preview how different filter choices will appear in the end.
5. Pick a cover photo for your video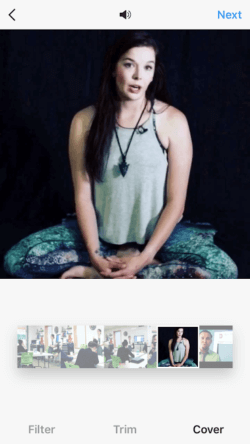 One frame from your uploaded video will appear as a thumbnail to Instagram users before they choose to click play. This cover photo should be a good overall representation of the video segment.
In this example, I am choosing a still image of the yoga instructor speaking on camera. This thumbnail image, or cover photo, will work well for telling the audience, before they click, that this video will be an interview with the yoga instructor.
You will also notice that, in this central preview window, all three menu options of "filter," "trim," and "cover" appear at the bottom as choices.
6. Trim your video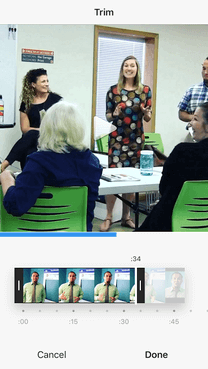 7. Share!
This is another optional step. Instagram does not have a robust video-editing tool. However, you can trim the video that you upload. In this example to the left, the video is being trimmed to finish after 34 seconds. I can squeeze each left and right end of the timeline to manipulate when I want the video to begin and end.
After you have finished all of the above steps, click next and publish your video! You will have the option to tag a location, or tag other Instagram users, which is similar to most social media platforms. See the photo below for what that final screen looks like.
Matty D. Media is a video production and social media management company in Lawrence, Kansas. We welcome your feedback! Please comment below, e-mail mattydmedia@gmail.com or call (913) 735-0783 with feedback or questions.